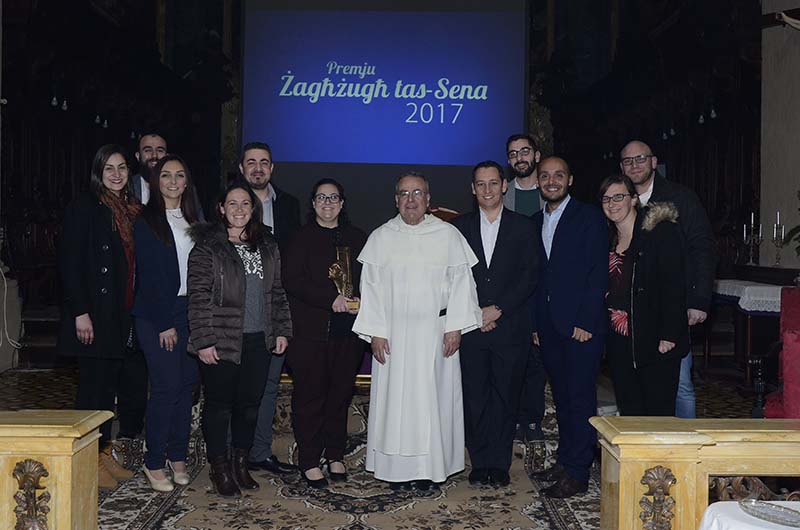 The Youth of the Year Award 2017 organised by the Kerŷgma Movement was awarded to Agara Foundation.  The award, which is sponsored by APS Bank, was announced by Mrs Bernice Micallef, President of the Kerŷgma Movement.
Her Excellency Marie-Louise Coleiro Preca, President of Malta, was present at the ceremony and mass which was celebrated by Archbishop Emeritus Paul Cremona O.P. at St Dominic's Church, Rabat on Friday 16 February 2018.  Also present at the award-giving ceremony were Mrs. Bernice Micallef, President of Kerŷgma Movement, Dr George Hyzler, Chairman of the Selection Board, Mr. Hervé Delpech representing APS Bank, and other guests.  The Youth of the Year Trophy was handed to Stephanie Micallef who represented Agara Foundation by Archbishop Emeritus Paul Cremona.
The group "Agara Foundation" was founded in 2014, following a volunteer work experience in Ethopia by two persons, who then decided to expand their voluntary work and explore modern methods in the field of volunteering and technology.  In Ethopian the word Agara means "Move Along (together)", and this is reflected both in the logo as well as the group's vision, because its aim is to walk together with different communities and individuals all over the world to empower them in their respective environments without suffering any discrimination or distinction.  Agara supports communities around the world, including Kenya, Ethopia, Lebanon, Romania, Peru as well as Malta.  The foundation works hard to raise awareness and to deliver a voice for those who are in minorities or those whose dignity is not being protected and respected as they should be.
Agara Foundation is made up of a number of sub-teams but its main focus is on collecting second-hand laptops.  The team's job is to format these laptops, install Windows and Office software and subsequently use these to teach, both locally and abroad, people who do not have the opportunity to learn IT.  For most of their projects, Agara sets up laboratories with these laptops offering varied lessons according to the needs of the particular individuals.
In August 2016, Agara carried out voluntary experiences in Calais and Dunkirk in France, two large refugee camps.  There they experienced some of the hardships that life is offering to refugees who are often judged and persecuted.  The Agara team carried out daily sessions of teaching IT as well as other fun activities where they also encouraged the refugees to air their thoughts.
In 2017 Agara had experiences in Lebanon and Romania where they set up laboratories with the laptops collected from Malta.  The team carried out several sessions of teaching IT which ranged from basic to advanced ECDL, photoshop etc.
The plan of the Foundation for 2018 is to further strengthen what is currently being done and implement new ideas and opportunities.  Two areas which are being explored are music and sports in the volunteering sector.  Another project is to give lessons to local children living in residential homes while providing them with laptops for educational purposes. They are also planning another project – a refugee camp in Greece, others in South Africa, some places in Asia and even in South America.  Agara follows up the projects already in place to ensure that they remain sustainable and work on how they can strengthen them further.
The nominees for this year's Award were: Agara Foundation, Ryan Attard from Fgura, Felicienne Cini from Żebbuġ, Gozo, Martina Fenech from Mosta, Mellieha Youth and Matthew Theuma from Għarb, Gozo.