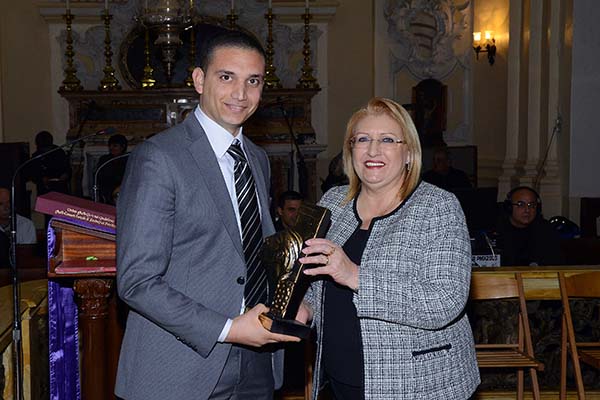 12 February 2015
The Youth of the Year Award 2015 organised by the Kerŷgma Movement was awarded to the group Joy Boys from Għarb, Gozo.  The award, which is sponsored by APS Bank, was announced by Ms Tania Borg, President of the Kerŷgma Movement.
Her Excellency Marie-Louise Coleiro Preca, President of Malta, presented the trophy at the end of a mass which was celebrated at St Dominic's Church, Rabat on Friday 12 February 2016.  Also present at the ceremony were the President's husband Mr Edgar Preca, Prof. Emanuel P. Delia, Chairman of APS Bank Limited who sponsored the event, and Mrs. Tania Borg, President of Kerŷgma Movement, Dr George Hyzler, Chairman of the Selection Board, among other guests.
"Joy Boys is a group of youths, aged between sixteen and thirty years from Gharb Gozo.  These youths undoubtedly touch everyone's hearts for their commitment and work in the voluntary sector especially their commitment to help everyone especially the residents of Gharb.
This group of young people lend a helping hand in all types of work especially manual work.  During their free time they help out in the church, the parish centre and also work in the warehouse containing the feast decorations, focusing mainly on restoration works.  This includes scraping, painting, maintenance on the various works and they also make fiberglass which is a very time-consuming process, requiring a lot of patience and dedication but above all, work that requires attention from a health and safety aspect.  Whenever any type of activity is being organised in the village they are always the first to give a helping hand so that all goes well.  They often organize dinners and other fundraising activities and the money raised goes towards funding the numerous maintenance works in the village, particularly towards the maintenance of the Parish Centre.  This centre is a second home for the young people of the locality where spiritual information meetings are held together with many other activities so that these youths have the opportunity to meet within a welcoming environment and get the opportunity to widen their knowledge.
When the village feast approaches these youths focus on the various feast decorations, including maintenance and other necessary work relating to the feast.  These include the decorations both inside and outside the church, works around the village, other activities and much more.  It may be stated that all these youths have their own jobs and therefore they spend all the rest of their free time working voluntarily.  Sometimes they continue working throughout the night.  They have changed almost all lights to LED lamps and also made new festoons.  They often undertake work in high places which can be rather dangerous and unsafe.
Last summer, this group embarked upon a missionary experience in the parish of Torovice, Albania, run by Fr Manuel Cutajar.  These youngsters carried out construction work and maintenance work in three houses belonging to the poorest families of Albania.  The works mainly included plastering and painting of the walls of the houses, installation of electricity and in one case also doing up the flooring.  Costs for the construction works were paid for from the donations collected from the parishioners of Gharb.  These young people worked tirelessly.  It is worth mentioning that on one particular day they manually mixed 17 sacks plaster and 5 sacks of cement.
They also prepared and distributed 150 hampers containing basic food items to the poorest among the poor of Albania.  Among others, these contained rice, pasta, flour and oil.  The hampers were distributed in a remote village called Malecaj-Kampi found deep within the mountains, a place which in the past served as a concentration camp.  Although to us such hampers are not worth much, to these people the hampers meant everything.
Joy Boys also donated a cow to a poor 38 year old widow, a woman who suffered a lot from her husband when he was still alive.  The cow cost €700 and was financed by a family from Gharb Gozo.  It surely be of great help to this poor woman and her four children.
The youths also donated 8 sheep worth €500 which will help another couple and their 4 daughters.
They also visited a house hosting severly disabled people, a house run by the Sisters of Mother Theresa, in the village of Shkoder.
This youth group undoubtedly never stops.  The calendar of activities for this year is prepared and full to the brim.  Some of these activities consist of fundraising and philanthropic events both within the parish community and even other institutions outside the locality.  Having experienced missionary work in Albania this youth group is looking forward to another experience, where the group is positive that others will join in.  The Albanian experience has left an indelible positive impact on them both spiritually and socially and has helped the poor community of Albania.  The youngsters within this group are always prepared for any event, ready to carry out any type of voluntary work which they do with dedication and great commitment."
The nominees for this year's Award were: Gabriel Cassar from Kirkop, Nicholas Cassar from Żebbuġ Gozo, Joy Boys from Għarb Gozo, Nikita Mizzi from Vittoriosa and Salesian Oratory Sliema.
This trophy is awarded every year in honour of the late Dr Rudolph Saliba who was Kerygma Movement's first president.  Mrs Marie-Louise Coleiro Preca congratulated the winner, the other finalists and Kerygma Movement for organising this yearly event which brought to the fore the voluntary work of so many youngsters.  She said the most important thing is not the giving of money but the giving of one's time to help others, time which can never be recovered.  She said that voluntary work transforms people who perform it but especially society itself which is in great need of the value of love.  Although thankfully we have no wars, our close neighbours are going through many conflicts and very difficult times with whole families suffering, basically because of the result of egoism.  So it is very important that we continue to strenghten the value of love to others even in our society which is facing great challenges.  There is the possibility that because of growing egoism we might forget about the suffering of others and therefore it is of utmost importance that these youths continue to help others out thereby changing our society.  This value of love for others was passed on to us by our forefathers and it is important that we strengthen and pass such values onto future generations.  She believes that there are many who are helping out in this regard and she therefore augured the finalists to never stop helping others in need.
Premju Żgħażugħ tas-Sena 2015: President of Malta together with Adrian Formosa, representing Joy Boys Għarb
Premju Żgħażugħ tas-Sena 2015: President of Malta together with all this year's finalists. L to R: David Camilleri representing Sliema Salesians, Nicholas Cassar, Nikita Mizzi, Adrian Formosa representing Joy Boys Għarb and Gabriel Cassar.
read more