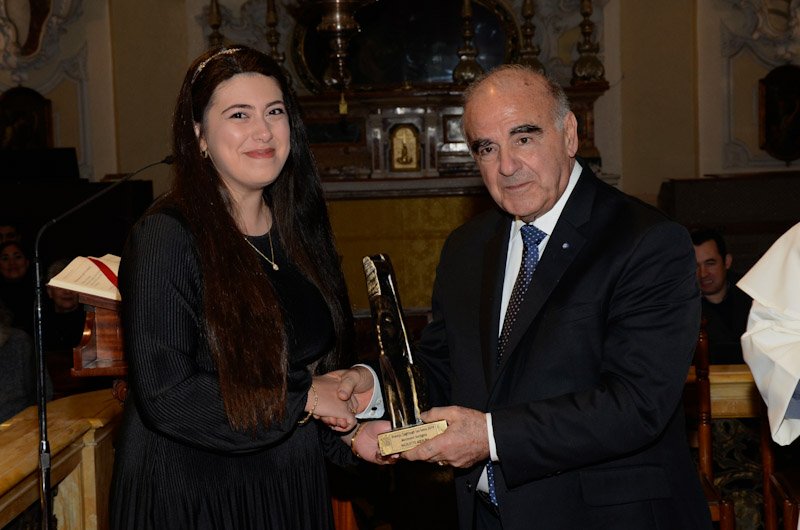 The Youth of the Year Award 2019 organised by the Kerŷgma Movement was awarded to Nicolette Aquilina from Luqa. The award, which is sponsored by APS Bank, was announced by Fr. Ivan Attard OP, Director General of the Kerŷgma Movement on Friday 7 February 2020.
His Excellency Dr. George Vella, President of Malta, and his wife were present at the ceremony and mass which was celebrated at St Dominic's Church, Rabat. Also present at the award-giving ceremony were Mrs. Tania Borg, Vice-President of Kerŷgma Movement, Mr. Jeremy Vassallo representing APS Bank, and other guests.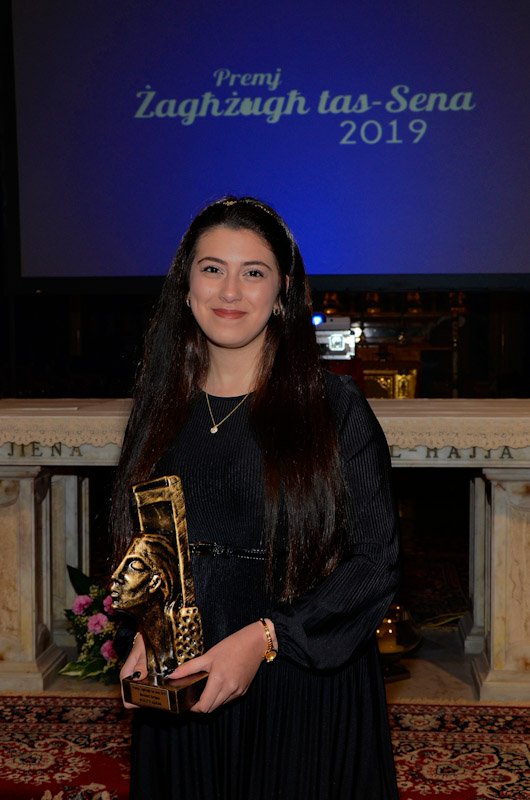 "Nicolette Aquilina is a 23-year-old youngster from Luqa, a graduate from the University of Malta. Over the last 9 years since she became a member of Luqa's Youth Centre she was of a great help and inspiration to other young people. Her eagerness and her hard work helped the group, which had dwindled to just 4 members in 2016, to increase once again to 40 registered members.
Two years ago, Nicolette was unanimously elected to fill the post of Chairperson of the Luqa Youth Centre which has in turn continued to grow both spiritually and socially under her guidance. She takes responsibility for organizing and co-ordinating a large number of educational, social and spiritual activities and meetings throughout the year. Some of these activities also include the parents of members and a number of other volunteers, including Luqa's elderly.
Several people in the parish including the committee of the Youth Center consider Nicolette as an exemplary model and pillar of the local community. She gives individual attention to each member and often goes out of her way to help some members going through various personal problems.
Nicolette is also a member of the Parish Pastoral Council and an active member of the Union Club Band. As chairperson of the Youth Centre she introduced the concept to share the Centre's building with other organizations that do not have anywhere in which they can meet.
Recently, Nicolette together with other members of the committee, decided to apply for funding from the European Union to renovate all the Centre's building to turn it into a modern building, wheelchair accessible, lively and with a space for young people to feel safe in and comfortable enough to express themselves and their feelings. This will be a big step forward for Youth Centre since it will have a much brighter look, equipped with modern technology and thus hopefully attract more youngsters from every sphere of society towards it."
The nominees for this year's Award were: Nicolette Aquilina from Ħal Luqa, Jean-Claude Borg from Msida, Nathan Borg from Siġġiewi, Amy Chetcuti from Senglea u Martina Livori from Cospicua.
This trophy is awarded every year in honour of the late Dr Rudolph Saliba who was Kerygma Movement's first president. His Excellency Dr George Vella congratulated Kerygma Movement for organizing this annual event which showcases the voluntary work of so many youths. He said that since becoming President he was very impressed to see so many committed youths performing voluntary work. As an example, he mentioned the hundreds of youths who turn up to help out in activities organised by the Malta Community Chest Fund. They do so despite it not being so easy in view of heavy work commitments or studies however they still make the time to help others out and do so with energy and dedication.
The President said that also paid workers could be considered as performing voluntary work, for example when nurses and carers take care of their patients with so much love and dedication, well beyond their call of duty.
He also said that an important aspect of voluntary organisations was that they imbued youngsters with good values, turning them into respectable citizens to the benefit of the nation.
Dr Vella finally congratulated the five nominees and encouraged them to continue with their voluntary activities not only to help others but also not to get lost in negative distractions.